UKPunting Reviews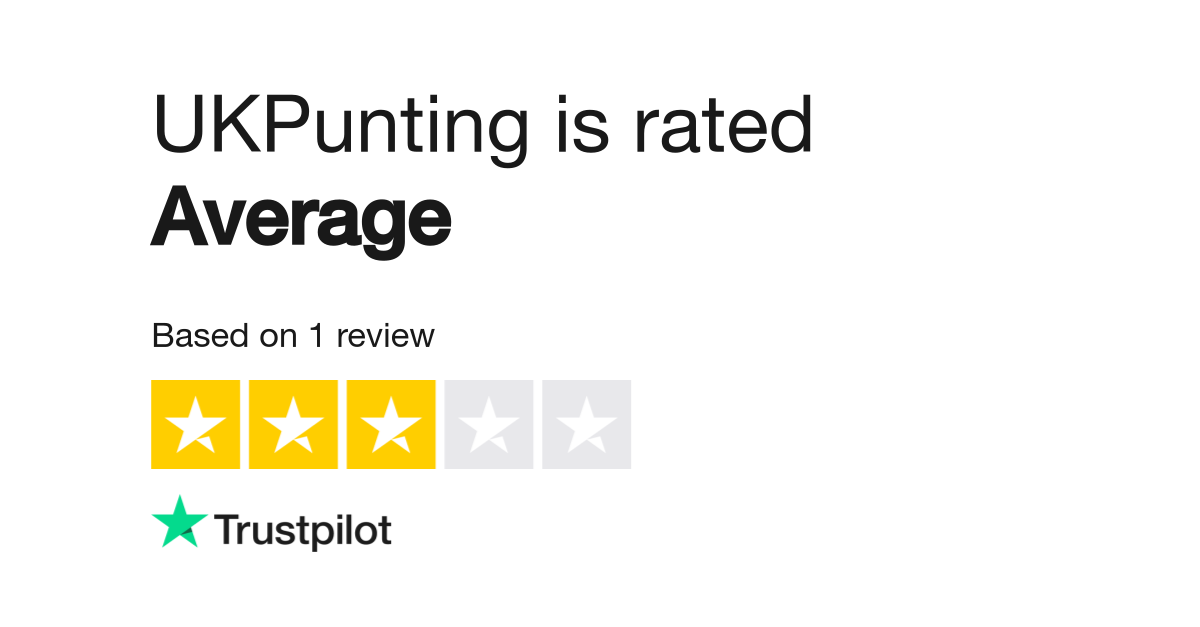 As I was online here reporting on your estranged sister website, I thought that I might take the opportunity to pen a few words about UK punting.
I should first say that I was correctly banned from UK Punting a couple of months before for promoting my own website without seeking permission first. I had been warned at least twice previously and should have heeded the warnings. I did not and was rightly binned.
By the same token I was a little miffed at the behavior of the Number 1 boss who at the time was called Head1. He has either changed his handle or been replaced as the new admin appears to go under another name. I forget the new name.
Prior to my banning he had PM'd me expressing interest in my new site and offered assistance and advice which as a noob at website creation and running, I was pleased to accept at face value. He even suggested ways to promote my site by embedding site contact details into submitted media etc.
And yet a few days later he dropped me without.warning. Must admit that I was a little put out as I was only simply adopting tactics he had suggested.
Is it just me or is this not being a bit underhand and two faced on his part.
ukpunting scotland
I attracted a lot of new members to their forum over the several years that I was writing and publishing my world travel blogs on UKP and if I knew then what I know now I would certainly not have bothered. But past is past and done is done and I certainly have no regrets as otherwise I would not have my sparkly new website which is ticking along nicely and becoming a good little earner.
ukpunting edinburgh
But just thought that I would set the record straight for those members, including myself, who were peeved that I was unable to complete the blogs on their original home and thus unable to read them. Sorry about that.
Vivago
Oi PIMP TREVOR, YOU fuuking pimp. Fuuk YOU and fuuk your wh0res. Fuuk off and die you pimp scum.
——S——.
Only the latest review will count in the company's TrustScore
UK PUNTING THE WORST WEBSITE ON PLANET X
AVOID ALL THEIR TALK AND RUBBISH AS THEY ARE JUST BANNED LOWLIFES FROM DECENT GIRLS WITH POWER LOL
STAY AWAY FROM MY MRS OR I WILL FIND YOU
LOL AND YOU SAY DEALT WITH MUSH … TRUST ME YOU AIN'T DEALT WITH ME YET BOY
COME SAY IT TO MY FACE GO ON LOL
bullying nasty site when i joined to confront the insults the owner block me he didn't want me to reply to some married men
this site should be taken down as its nasty hateful bullying
Been a while since the site was open to new members, obviously got technical issues and restricting the numbers due to the number of false reviews.
The old core members are still there waiting to pounce on members with less reviews to goad, bully and belittle them or have them banned. It's all part of nature, keeping top spot, being revered and unchallenged and keeping others in their place. It's a monkey pen at times.
These old croaks try to make it sound if as if punting is more drama and harder than it actually is. Sadly these few drama queens feed of this and as it boosts their egos. Most of the punters on the site realise its fairly straightforward are not interested or fail to be impressed by the old deluded croaks, who pretend to be punter gods while their scrotums shrivel and evolve into inert objects.
The sad truth is that the escorts have got most of these old croaks where they want them doing negative reviews on a failing forum instead of giving negative feedback elsewhere because they are too scared too. Perfect damage limitation for dodgy escorts and a place for the gutless to write negative reviews without the risk of negative feedback denting their egos. Them fragile scrotums.
Admin needs to do something bold to stop the rot before it goes into terminal decline.
UKP needs to be totally revamped, limit reviews to 50 words to stop the Mills& Boon brigade and hopefully limit false reviews. Limit the number of comments to 10 per day to restrict the UKP old croaks boring us to tears and discourage bullying. Get somebody professional into sort out the website, it's an embarrassment compared to other punting forums or even Saafe.
This site is absolutely horrific and poorly managed. It's filled with a load of disrespectful and nit picking people, who clearly think they are above every else. What is written on this site is not proven to be true in any shape or way, but so many people take people's words as gospel. Posting people's locations and addresses is just damn right stupid and you should be arrested for that, that can cause a lot of problems. Anyone can write a review, just like I am now, so remember that.
ukpunting london
Instead of writing on here about how bad the experience was, but you still stayed, which makes absolutely no sense, then speak to the person themselves. Yes, you're paying for a female but even with money, half of you want to remember that you're lucky any one even bothers with you. It's a vile place and a lot of people just love to feed off of a negative vibe. It needs removing and definately take people's reviews with a pinch of salt because people with clean reviews still get negatives on here I've noticed, it doesn't add up. Can't wait until it's deleted.
Lol this is not the Belgarion. It's Ja the troll.
One notorious agency pimp is behind client eye app and giving the threat. Its a joke anyway nothing to be worred for UKP members.
Florence cry baby cry,,,,,it's 2020 UKPunting is here,
___________________
UKPunting, The TripAdvisor of Escorts,
Only the latest review will count in the company's TrustScore
I thought I would join the site simply to engage in a bit of banter and exchange information with like minded others.
Sadly I soon found out that the term "like minded others" just does not exist.
ukpunting reviews
After posting a few, what I considered to be honest and truthful reviews of ladies I had seen. It soon became obvious that the way I posted and reviewed was different from a lot of others.
Apparently I was too polite for a start and got slagged off for being so.
Quite a few responses from others using the site mentioned that perhaps I treated working girls with a bit too much consideration when writing a review.
The more I read the posts of others, the more disillusioned I became. It really did feel as if the site was full of morons, and worse still the language used was pitiful.
It must really take a lot of intelligence to use offensive language when you are so obviously losing an argument.
In the end I, like a lot of others who refused to conform to the normal, hate filled vile that exists on the site. Was banned.
I can't remember the exact words used when being messaged that I would no longer be able to log in.
But it was something like I was so obviously a man who cared too much for the feelings of working girls.
I had to laugh 🙂
The site is a lot like the communist belief. In theory it looks good but in reality it just can't work.
UKP is not moderated properly. There is too much opportunity for falsehoods to be posted and in general. Reviews of all sorts are rather pathetic to say the least.
Would I want to visit someone who had been credited with this glowing review. A positive I have to add.
******** (name deleted for privacy reasons) She look'd like her pics and the place was ok. Took me ages to find a parking place that got up my nose cos she said it was easy.
But after that it was fine. She sucked me off better than a lot of others and we had sex first with me on top then doggie.
If this guy was reviewing the new Ford Mustang I would not be wanting to book a test drive LOL.
Terrible site. But if you get the chance to join and want a laugh. Just for the bad English at least. Do take a look.
I thank to Ali katt, Cool tiger who I dealt about a well dodgy poster who was blatantly touting. Thanks you are really doing good as mods.
Only the latest review will count in the company's TrustScore
Fellcia, you can't join because the sites broken.
Depending who you believe this is either because a) the previous manager who claimed to be an I.T genius broke the site so badly a team of a dozen I.T "staff" have never been able to fix it.
b) the new owner is a complete numbskull, who can't work it, despite being vouched for by the previous owner.
Either way, the site has been effectively finished for some time now and needs deleting 🙂 They are merely delaying the inevitable.
If I could give zero stars then I would! UKPunting is used by sex crazy men (who may I add seem to begrudgingly pay for what they actually want!) who seemingly make visiting escorts and writing reviews their favourite hobby. UKPunting has no filter or regulations to ensure what someone is writing is actually even true so they are able to write the most detrimental fake reviews if they so please.
ukpunting soho
I recently had a review written about myself by someone who had attacked me and had bad personal hygiene (which I brought up evidentally) therefore it was obviously done maliciously, the dates and the area of the review did not even add up to where I was or ever have been located so this all teamed together, I knew the review was false and written out of spite.
I emailed UKPunting various times explaining the situation and how detrimental it was to me and asked then to take a look at it, I received no response to this day, the review is still visable and I am currently seeking legal advise to take this further. The worst site online and it should be shut down immediately!!!!
I see you can view as a guest again. Seems things are getting fixed. Good news for the haters and banned members.
Tbf
It's a very difficult website to rate now, as it quite simply doesn't work.
Perhaps they will delete it all and start from scratch like they should've done on day 1? You can't blame the management for the previous owners botched DIY I.T. mess.
I was a member of UK Punting and I never left any negative reviews. But recently I tried to log in only to get a message on the screen saying "That username does not exist.".
I clicked on the "Forgotten Password" link and entered my email address only to get this message: "An Error Has Occurred!
No account found for that email address."
So then I tried to create a new account and I got this message: "Sorry, registration is currently disabled.".
I have come to the conclusion that the site has been taken down and exists in a very basic form until the paid-for period expires.
I previously tried to log in back in July – I wanted to leave a review about an AW girl who messed me about but I had the problems mentioned above.
BTW: They don't even deserve 1 star; zero stars is more than they deserve.
I'm a long time contributor, chief architect engineer of the widely acclaimed Veri Pic threards of all regions which allow members to view the captured verification pictures from aw and access them even after they have been deleted or concealed on aw. A few days ago I suggested the site owner that we need to open the new registration because.imo closing inscriptions will slowly slow down the number of reviews. For example last year we had 2600 reviews in 30 days and this year 1580 reviews in 30 days.
The best thing new management did closing the registration. Now no chance of rejoining for all the banned trolls and once they get banned. A good decision by admin Team.
Only the latest review will count in the company's TrustScore
A server based in the Netherlands and shared with some 3rd party. I can't find out who. No idea of their security – probably worthless.
If I can find out where they are based anyone who has that information can find where contributors are fairly accurately, and a log of any girl who has been visited. Anyone who uses this site is at high risk of exposure or worse.
Am I expected to believe that they cannot do anything as basis as get the new registration working.
There is something going on with this site. We'll see what
This is the king of all the punting sites haha, this is were the really horrible ones get together and tell lies. and once you disagree with anything they block u from the site so u cant respond, absolutely pathetic
Well the review of punting has slightly changed over the past months the new format is very good seems
Only the latest review will count in the company's TrustScore
Get to know your customers. Simply claim your company now. Get real customer insight and respond to your reviews. It's free.
Call Girls Escorts near You
Lisa Lewis Escorts in New Zealand
AdultWork.com