Farrah Dahl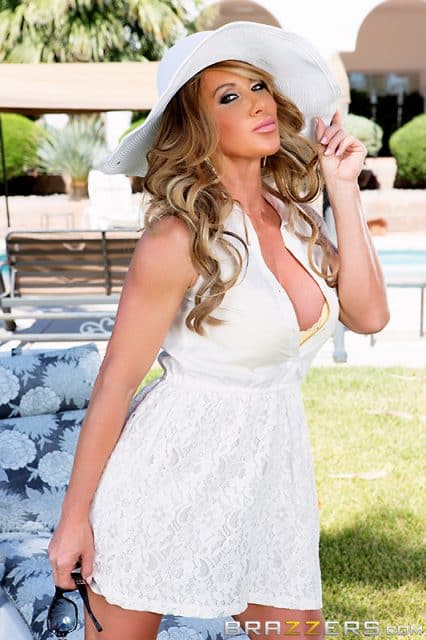 Twitter : @FarrahDahl   Brazzers : Farrah Dahl Sex Scenes   MILF VR : Farrah Dahl VR Scenes   Naughty America : farrah dahl xxx.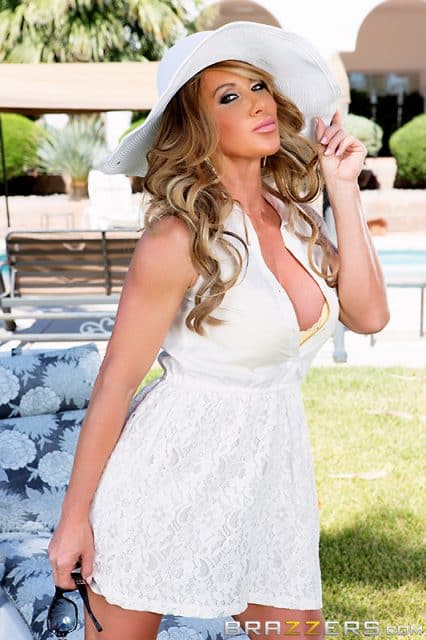 Farrah Dahl in Tits and Tulips – Brazzers
Personal Info
Name : Farrah Dahl
Date of Birth : December 1st
Hometown : Lafayette, Louisiana (US)
Measurements : 34DD – 23 – 34
Height : 5'5 (1.65m)
Hair Colour : Blonde/Brunette
Eye Colour : Green
Piercings : Navel
Shoe Size : Women's 8 (US)
Years Active : 2013 – present
Number of Scenes : 20+
Farrah Dahl is a fan-favorite adult film star and glamour model who first started performing in porn in late 2013. Famous for her fantastically toned figure and raw sexual charisma, Farrah has starred in an impressive collection of Brazzers, Naughty America and Aziani productions. Watch this space!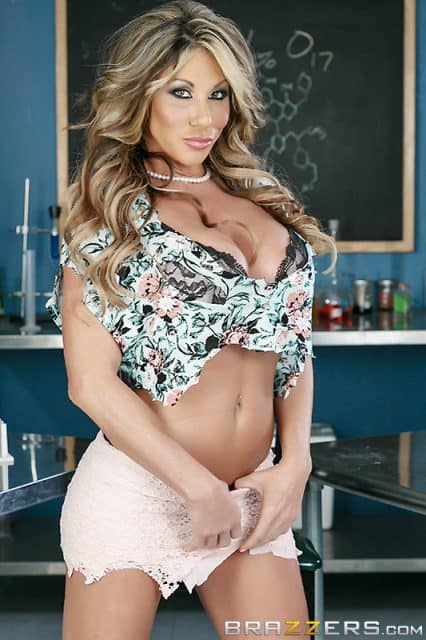 Farrah Dahl in The Slutty Professor – Brazzers
So where did it all begin? Hailing from Lafayette, Louisiana, Farrah grew up near New Orleans but is currently based in Venice Beach in California. Farrah has always been an athletic individual and divulged during her November 2014 Men's Mag Daily interview that;
"I grew up in Louisiana. It was very Southern with a lot of alligators and all that. I lived near New Orleans so there was a lot of partying and a lot of drinking. It's kind of a small town mentality. My parents were open minded but they were traditional at the same time. I live in Venice Beach now and I love it. I'm right near Gold's Gym which is the best part about it.
I always wanted to work out here. It's amazing; you can just feel the energy. Back at home in Louisiana you were kind of ostracized for being in shape because it's a big eating and drinking culture. It's more accepting here. Everybody has this idea that you have to be so hardcore but I have fun all the time. I go out and drink. Everything in moderation is the secret to success".
You may be interested to learn that Farrah is an ardent animal lover who worked as an assistant zoo keeper before she discovered her porn star potential. As Farrah mentioned in her November 2014 Men's Mag Daily interview;
"I was an assistant zookeeper. I did that for a long time. I love animals so it was a lot of fun. I was always into animals and at that point I was thinking about becoming a veterinarian. The job at the zoo, it was like a program that you had to apply for and you had to really love animals. They only picked like 12 people and I worked there every summer for 5 years".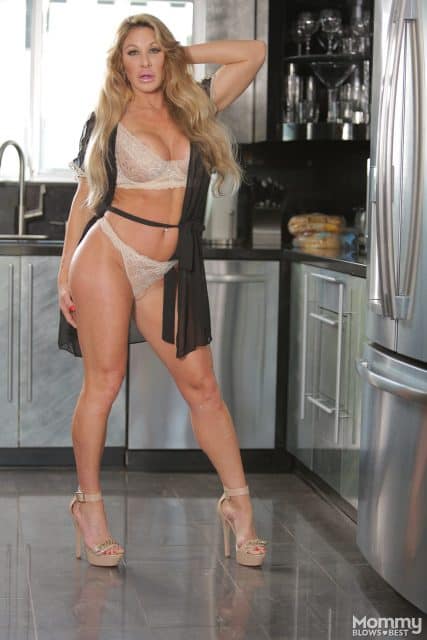 Farrah Dahl in Scrambled Eggs – Mommy Blows Best
Wondering how Farrah went from zoo keeper to porn star? Well, Farrah had actually wanted to pursue a career in porn for many years and had previously performed as an exotic dancer. Eager to explore her sexuality, Farrah decided to create a Twitter profile and posted some solo bikini modelling shoots. These sizzling pics soon attracted the attention of prominent male porn star Keiran Lee who booked Farrah's first ever sex scenes. And the rest is history! Talking about this pivotal period of her life during her November 2014 Men's Mag Daily interview, Farrah explained how;
"It was always on my list of things that I wanted to do in my life. It was on my bucket list as well as going to Italy which I did over the summer. There was only one or two things left on my list and porn was one. I always wanted to be in the industry. I didn't want to get into it for financial reasons. I wanted to be sure about the reasons why. I wanted to be confident in the decision to enter the industry.
I got in when I was MILF age so I waited until later on in life and it's basically just because I'm kind of a pervert. I love people to watch me have sex. I've always been into that. I make my own decisions and I don't really care what society thinks of me…
I was actually just thinking about this. It's like everything I've ever done has been of a sexual nature. I was a stripper. I did that when I was really young. I was the general manager of an upscale erotic experience for adults which is basically just a private sex club. I did that for four years. Everything always had a very sexual aspect to it.
I was a manager of a Russian ultra-lounge and I was surrounded by the sexiest people. The only thing that didn't have a sexual aspect was the zoo. Although, there is something to be said about watching elephants have sex, it's amazing. I always wanted to get into porn but I didn't know how. I just started up a Twitter and started posting bikini pics of myself because that's really all I had. One of my like 50 followers suggested me to Kieran Lee and next thing I know I was in L.A. doing my first scene".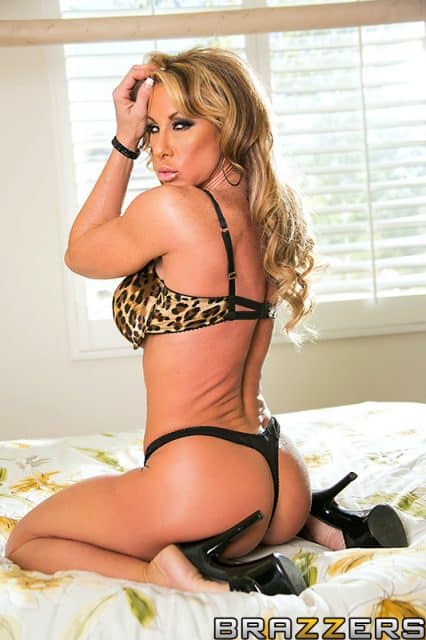 Farrah Dahl in Cold Feet, Hot Pussy – Brazzers
Farrah Dahl : Adult Film Career
Farrah first started working in the adult film industry in October 2013 and many of her earliest sex scenes were released via Brazzers Network. We recommend checking out Farrah's Cold Feet, Hot Pussy debut scene with Keiran Lee in January 2014, her sizzling Ultimate Brazzers Fucking Championship shoot with Shay Fox and Manuel Ferrara in April 2014, her hot Tits and Tulips scene with Brick Danger in August 2014 and her saucy Say Hello To Mrs. Dahl three-way with Janet Mason and Brick Danger in October 2014. Farrah has loved shooting these hardcore scenes and highlighted in her November 2014 Men's Mag Daily interview how;
"I've always been really adventurous. I've always loved sex in public. I love outdoor sex. That's a big thing for me. I was giving blowjobs long before I had sex and most of my girlfriends were the opposite way. I've always been that way".
Curious about the origins of Farrah's saucy stage name 'Farrah Dahl'? Well, Farrah revealed during her September 2014 Barelist interview that;
"Farrah came from my obsession with all things 70's Disco and Dahl is because I'm a Hardbody fuck doll".
Farrah Dahl in Tits and Tulips – Brazzers
Want to know the best part? Farrah has continued to collaborate on several saucy Brazzers Network scenes. Fans of Farrah Dahl will love viewing her raunchy The Slutty Professor role-play with Jessy Jones in May 2015, her steamy Mom Crashes Romantic Weekend shoot with Xander Corvus in May 2015 and her kinky Let's Call Your Boyfriend Over three-way with Cassidy Klein and Xander Corvus in July 2015. Many of Farrah's hottest web clips have also been featured in the Brazzers compilation titles Moms In Control #2 (2015) which was nominated for "Best Older Woman/Younger Girl Release" and Moms In Control #5 (2016) starring fellow MILF performers Olivia Austin, Ariella Ferrera, Cherie DeVille and Leigh Darby.
Hold on it gets even better! Farrah has also filmed a wealth of MILF themed scenes for Naughty America, Team Skeet, Blow Pass and Fantasy Massage. Our top picks? They'd have to be Farrah's steamy My Friend's Hot Mom role-play with Tyler Nixon which was uploaded via Naughty America in May 2016, her Take Your Son To Work Day shoot with Seth Gamble that was promoted via Nuru Massage in March 2016 and her saucy Seduced By A Cougar scene with Chad Alva which was released via Naughty America in August 2016.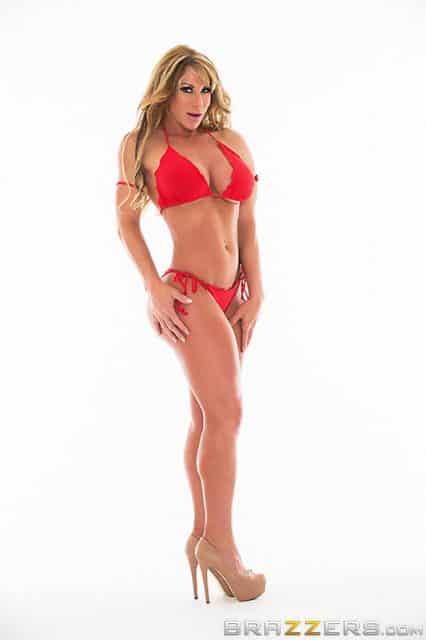 Farrah Dahl in Ultimate Brazzers Fucking Championship – Brazzers
Alongside her raunchy web clips, Farrah has been featured in many fan-favorite movies such as Please Bang My Wife (2015) for 3rd Degree, Mommy and Me #14 (2016) for Filly Films and the Wicked Pictures production Axel Braun's Cougar Alert (2015). Also starring Ava Addams, Mercedes Carrera, Nina Elle and Ryan Conner, Axel Braun's Cougar Alert was an instant hit that was recommended by XCritic column writer Apache Warrior. As Apache stated in his April 2016 film review;
"Axel Braun's Cougar Alert is a film from director Axel Braun and the studio Wicked Pictures. It features five different plotlines about a horny older woman getting turned on. Very attractive MILFs Ava Addams, Farrah Dahl, Ryan Conner, Nina Elle, and Mercedes Carrera provide much eye candy and sex appeal as well as good horny sexual behaviour…Each scene provides a good storyline to set up the sex.
Ava Addams is a good actress. Nina Elle has sexy sensuality especially when she is eating a banana. Ryan Conner and Tommy Gunn have fun chemistry. Mercedes Carrera and Farrah Dahl know what they want and get it. There is a good amount of heated sex. This film is a recommended one". farrah dahl porn.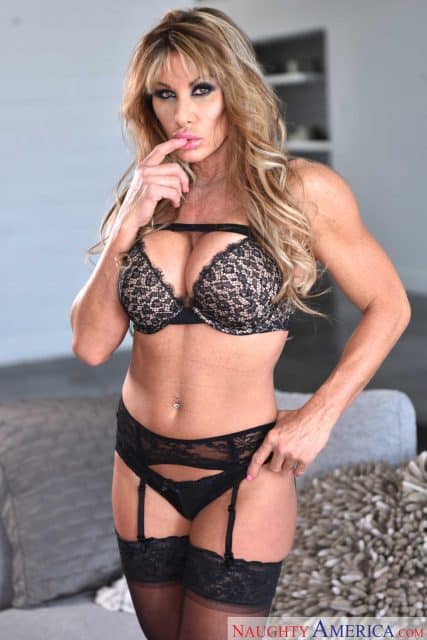 Farrah Dahl in Seduced By A Cougar – Naughty America
Never one to rest on her laurels, in recent months Farrah has shared a raunchy The More Bad MILFs The Better group shoot with Laura Bentley, Ryder Skye and Codey Steele that was released via BadMILFs.com in January 2018 as well as shooting a kinky Scrambled Eggs scene with Logan Long for Mommy Blows Best in May 2018 and sharing a sizzling My Friend's Hot Mom scene with Lucas Frost that was filmed for Naughty America in April 2018.
Farrah is famous for her phenomenal figure so it's no surprise that she has appeared in many Aziani movies such as Aziani's Iron Girls #3 (2017), Aziani's Iron Girls #6 (2018) and Muscle MILFs #3 (2018) starring alongside Brandi Love, Ashton Blake, Devon Michaels, Jewels Jade, Brandi Mae, Raquel Sultra and many more fan-favorite muscled MILFs!
Farrah has always enjoyed working out and has competed in fitness competitions for over 10 years. Farrah is also a personal trainer and divulged during her November 2014 Men's Mag Daily interview that;
"I've been doing this [fitness competitions] professionally for 10 years but I really started winning about five years ago. The thing is, they would consider porn conduct unbecoming of an athlete. Whatever, I'll cross that bridge when I get there. Hopefully they'll care more about what I'm showing on stage than what I do off stage. I'm also a personal trainer right now. farrah dahl nude.
It's pretty intense. Two months before I compete I work out twice a day. I'll do my weight training and then later on I'll do my cardio. If I'm not training for a competition I usually do at least an hour and a half a day. I don't really take days off. I'm always going to do something like jogging or sprints. It just works. I'm living proof of that. I used to be the total party stripper sleeping all day and up all night but you need healthy aspects to your life. It helps balance out the bad habits. I like to have fun too. I don't sit around and eat tofu all night long. (Laughs)".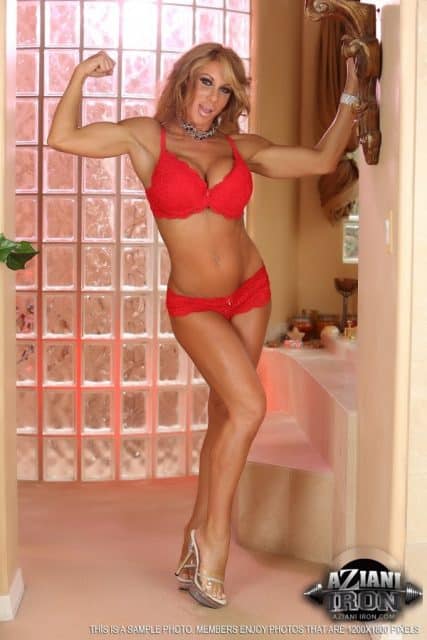 Farrah Dahl in Aziani's Iron Girls
Just when you thought it couldn't get any better, Farrah has started to treat her fans to some sensational virtual reality sex scenes. You'll love experiencing Farrah's intensely alluring The Biggest Winner VR shoot for MILF VR in January 2018 and her incredibly immersive After School VR collaboration with Vanessa Cage and Aubrey Black that was unveiled via Naughty America VR in March 2018.
When Farrah isn't performing in porn she enjoys working out and interacting with her fans via social media. Farrah loves communicating with her fans via Twitter and divulged during her January 2016 Fleshbot interview that;
"I have so much fun with my fans on Twitter! I love looking at their photos and getting to know them-Many have changed from fans into friends who are also fans…My fans make it possible for me to do what I love! I appreciate y'all!! Xoxo". farrah dahl and janet mason.
Farrah Dahl Vanessa Cage and Aubrey Black in After School – A Virtual Reality Experience – Naughty America VR
Wondering what the future holds for terrifically toned MILF star Farrah Dahl? Well, Farrah has mentioned in her November 2014 Men's Mag Daily interview that she would like to establish herself as a popular fitness girl in the mainstream porn industry. As Farrah puts it in her own words;
"Yeah, I'd like to be a very popular fitness girl in the mainstream. There haven't been many. I'm able to keep my femininity. People try to put you in a box but porn should be free of all those rules, people should be accepting of you. I do see a lot more girls working out now and I hope it keeps going that way".
Want to keep yourself updated on all of Farrah's hottest sex scenes and upcoming projects? Then use the links provided below to stay connected with the fabulous Farrah Dahl!
Social Networks
Twitter : @FarrahDahl
Brazzers : Farrah Dahl at Brazzers
Naughty America : Farrah Dahl at Naughty America
MILF VR : Farrah Dahl at MILF VR
Mommy Blows Best : Farrah Dahl at MommyBlowsBest.com
Adult Empire : Farrah Dahl DVDs
10 Best Mobile Porn Sites